In a speech to the Association of Colleges on 14 November 2017 Jeremy Corbyn said
"Just as Nye Bevan created the National Health Service in the aftermath of World War 2, the next Labour Government will create a National Education Service. We will offer cradle to the grave education that is free at the point of use."
This was a huge and massively important commitment which Labour now needs to retain and develop for the future. When achieved it will help to transform and improve our society massively. Providing us with a seriously minded society (yet one that is more happy and fulfilled) and which uses its developing understandings to ensure that our political system will be fully democratized and meet the needs and requirements of masses in our society who are currently in depressed and deprived circumstances.
The establishment of an appropriate system of Lifelong Learning will, however, be much more complex than setting up the NHS was. For generally a person (or their relatives and friends) will be aware whether they are in need of help from a doctor, ambulance or hospital services. Determining when someone is in need of forms of adult learning facilities (and whom they should approach) will require a more complex range of life-time openings.
The Labour Party Manifesto at the recent General Election included a section which briefly spelt out Labour's intended direction of travel on the matter of Lifelong Learning. See the items entitled "Further Education and Lifelong Learning" which appear on pages 40 and 41,
click here.
Unfortunately, this was not an issue which was able to obtain much coverage during the General Election period itself. This was partly due to failings by the media, but it also arose from the fact that Labour's own work in shaping its approach was only reaching fruition when the election was on top of us.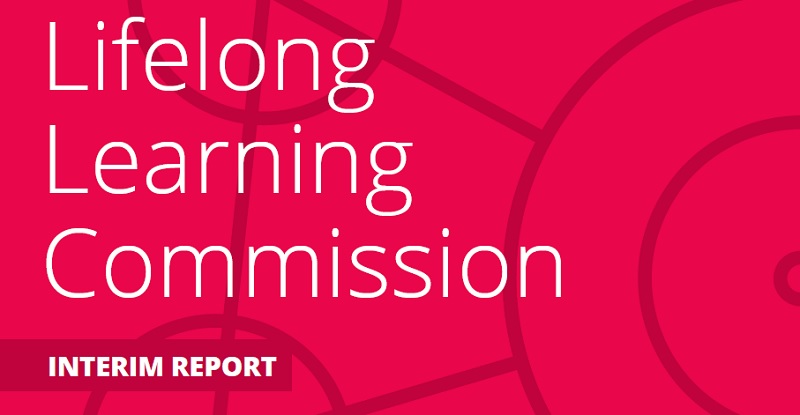 A "Lifelong Learning Commission" co-chaired by Estelle Morris and Dave Ward only issued its Interim Report in July 2019. It was then only able to come up with its final 85 page report containing more detailed recommendations as we moved into the dissolution of parliament for electoral purposes in November. Click
here.
A summary of its 16 major recommendations appear on pages 58 and 59 of the report.
I will now confine myself to what has been my own specific interests in forms of adult learning, which is just the tip of the iceberg.
My own commitment towards forms of lifelong learning developed after some of my early failures via school education and from later experiences starting from the time when I undertook my National Service as an 18 to 20 year old. My involvement with forms of lifelong learning being mainly restricted to the areas of politics, economics, industrial relations and philosophy. Labour's proposals go well beyond these matters. But I will now restrict myself to my own experiences.
As an only child, I came from a solid coal mining background. My father and his five brothers all came to work at the same local pit and his only sister married a local miner. Only my Uncle Arthur finally moved away and joined the RAF. My mother's two brothers also started work in the pit, one then moving into nursing. My mother and one of her three sisters also married coal miners. This meant that I had the advantage of being brought up in a tightly mining environment with close social bonds.
But my shortcomings at Primary School were centered around extreme shyness and a serious inability at spelling. So I failed the then 11 plus exam and went to a Secondary Modern School and not a Grammar School. Then I had never read a book from cover to cover until at 12 a teacher took our class into the school library and made us borrow and read a book. I read John Buchan's "Mr Standfast" and was hooked. I later made it to Grammar School via an "occasional admissions" exam. But I was no success there when it came to the "O level" exams at 16, failing the key subjects of English Language and Maths. But in a post war period shaped by the Attlee Government there were lifelong job opportunities and I made it as a Railway Clerk. By then I was regularly into purchasing books such as H.G. Well's "Short History of the World" and visiting the local library, where my mother also borrowed serious novels.
A key step in my own form of lifelong learning started when I undertook my National Service via an RAF Movements Unit at Basra, linking in with Iraqi State Railways. I was shocked by the harsh living and working conditions I saw many Iraqi people experiencing
Then there was a book shop I visited in Basra which sold Rational Press Association books which challenged what had been my Methodist background. There were other books to buy and I also ordered works by writers such as G.B. Shaw, GDH Cole, James Joyce (recommended by a corporal), a volume of Shakespeare's plays and Tolstoy's "War and Peace".
The man who ran the shop said that he had been stopped from my ordering Karl Marx's "Das Capital" when he checked the matter out with the local chief of police. But I also obtained the "New Statesman" weekly on rice paper, plus "Reynolds News" and the "Observer" which came by sea and were then two weeks old.
I was finally demobbed at 20 in the midst of political turmoil around the British invasion of the Suez Canal and the Russian invasion of Hungary. It was a politically stimulating period. My initial avenue for expressing my developing political views were letters to the local press. Then a year after my demob I joined a body stimulated by GDH Cole called the International Society for Socialist Studies and even heard him addressed them. I also joined the Labour Party and after a few months became a local branch secretary and arranged for the meetings to rush through business each second month and then have a speaker and a discussion. A local Fabian Society was then founded at near bye Peterlee and I became their Secretary. I was into the dialectics of political debate.
I then attended a Fabian Summer School held at Ruskin College in Oxford where I discovered that the College itself was for people like me, who had an interest in subjects such as Politics and Economics but no relevant "A" level qualifications as a pathway into such studies. I later made it into Ruskin College via references (one from Manny Shinwell my MP), writing an essay for them and attending an interview. My fees and living allowance being met by the Durham County Council. After 2 years full-time study, this led me to obtain an Oxford University Diploma in Economics and Political Science which enabled me to get a place at Hull University where I gained a degree in Politics and Philosophy.
But that was only a leg up to my fuller involvement with Lifelong Learning. For from 1966 to 1987 I was a tutor in the Sheffield University Extramural Department (later called the Division of Continuing Education) taking Day Release Classes for Trade Unionists from areas such as the Coal, Steel and Railway industries plus classes for shop stewards. I mainly taught Politics, Industrial Relations and Student Skills. Numbers of my students also moved on to full time study at Adult Education Colleges, including Ruskin. Others became more fully involved in their Trade Unions and in areas such as Local Government.
1983 Derbyshire Miners Day-Release Class
Then my Department established an Access Course mainly providing openings into Sheffield University for adults without formal qualifications. I taught classes on Philosophy and then acted as Course Director. Those who successfully made it to full-time University Studies at Sheffield via our classes ended up generally with above average degree results.
Then when I became an MP in 1987 three of my fellow Labour colleagues were former Yorkshire Miners whom I had taught on Industrial Day Release Classes and another Labour MP from that background had been a fellow student with me when I was at Ruskin. Dennis Skinner had also attended our Derbyshire Miners classes, then Ruskin. He was a day release student with us the year I arrived in Sheffield, but I was then teaching a different Derbyshire Miners Class.
Although I studied and taught politics for 21 years before becoming an MP and then took many classes down to parliament on day trips, my parliamentary activity was also a huge learning curve. Not only was the range of parliamentary activity widespread, but constituents came forward with a complex range of problems which needed to be tackled. Luckily I soon learnt that if an issue was new to me, the first place of call to find out about a topic was the research staff in the Commons Library. For Conservative Government Ministers (at the best) would only answer the specific questions I asked them. Whilst a researcher would know that I was new to a topic and would explain what I really needed to know and pursue. The loss of their services are the main thing I have missed since retiring from the Commons in 2005.
As an MP lifelong leaning was an issue I pursued, but circumstances dictated that this had to be in a defensive capacity. Thatcherism struck at the work of Adult Education Colleges such as Ruskin and also ended payments of student fees. Next even Tony Blair (with my full opposition) removed University allowances for students for living purposes, thus adding further to their borrowing costs. These matters still need to be tackled.
When I finally retired from parliament in 2005 I returned to an old habit of setting up monthly discussion meetings. This time as Political Education Officer for my local branch of the Labour Party in Dronfield where I have now lived for 50 years. I only passed on that commitment last year, but I still keenly participate in the group's discussions. In fact this item on Lifelong Learning arises because Bob Heath a former Sheffield University Extramural colleague of mine (whom I initially studied with at Ruskin College and then Hull University) discussed this very issue with us at our last meeting. Click
here
. John Halstead who involves himself in both ILP activities and our local discussion group, being a further colleague from my Extramural days. He works closely with the Society for the Study of Labour History.
Then three other sources feed my attempts at my own form of continuing adult learning. First, I continue to read works in my areas of interest. Having found hardly any scope for fiction since I first turned up at Ruskin in 1960. Secondly, I scan the Internet for serious forms of information relevant to my interests - whilst seeking to avoid those comment boxes where people just fart at each other about politics. Then also there is the ILP. Under the influence of Keir Hardie it was founded in 1893 and helped shape the Labour Party. But in experiencing a departure by Labour from its basic values, it set out on its own in 1932. It finally returned to the fold in 1975 changing its name to Independent Labour Publications. I then joined and participated with them in a wide range of Labour movement discourse.
Whilst I am for the forms of adult learning which I have stressed, Labour's recent publication correctly goes way beyond these matters, showing the wide number of areas where varying forms of Life Long Learning are very deeply needed. The whole issue should not just be an add on to Labour Policy, but needs to be at its heart.