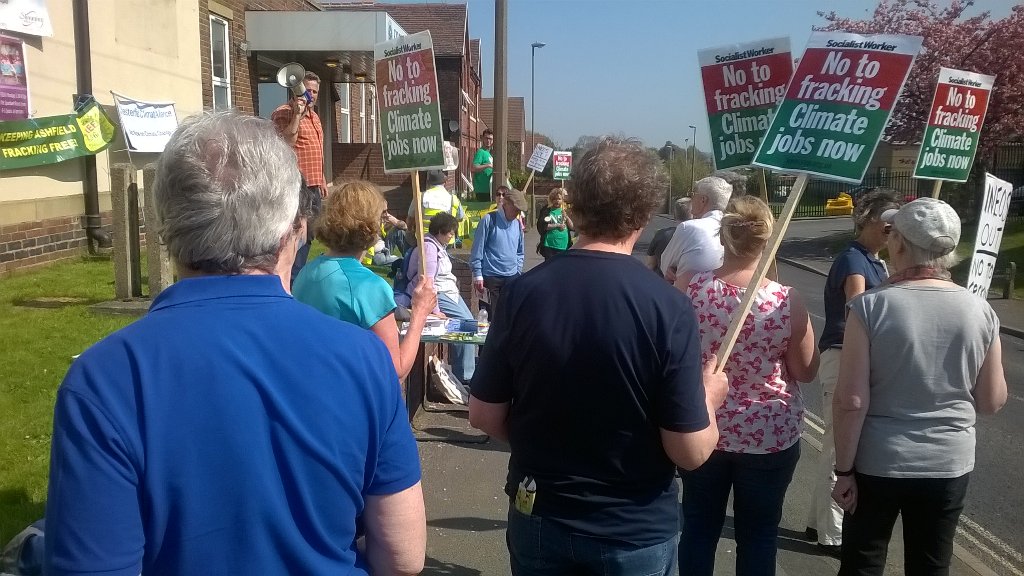 On Monday INEOS (see here) held a meeting at the Speedwell Rooms, Staveley on their plans for Fracking in North Derbyshire.
They and/or similar firms have identical plans across wide areas of South Yorkshire and North Notts.
They had invited Parish and Town Councillors from the North Derbyshire area. I wangled a place.
Some 50 attended, but a dozen or so of these were from INEOS itself – these were high powered people within their operations. I had a talk, for instance, with their chief geologist. We were in front of a map which showed the licences INEOS held in the area. One of the few places that was excluded was around Chatsworth. For the Duke of Devonshire himself holds that licence.
Outside the meeting was an anti-fracking demonstration (see above), involving the Chesterfield Climate Alliance, Chesterfield Trades Council and a number of anti-fracking bodies from Barnsley, Doncaster and other areas.
INEOS pointed out that they are the largest chemical company in the UK. They operate six plants, the largest being at Grangemouth in Scotland, which is a crude oil refinery. They have 65 plants in all operating in 16 countries and plan to move their headquarters to the UK from Switzerland. Separate information from the recently published "Sunday Times Rich List 2016" shows that Jim Ratcliffe owns 60% of INEOS and is the 30th richest person in the UK currently owning £3.2 billion – almost 10 times the personal wealth of the Queen.
INEOS said that they are not yet producing shale gas from fracking processes in the UK, but are seeking to become the major operator in the country. In the meantime they will make use of imported shale gas and oil.
In Scotland, they have held 57 events similar to the one they were holding at Staveley. When asked, they promised to run future meetings in our area for District and County Councillors, the Chesterfield Trades Council and the public. Matters on which they need to be pushed.
Over the next two years

they hope to (a) identify local sources of shale gas and oil, (b) enter into negotiations and agreements for operations, (c) obtain planning permissions, (d) drill and (e) commence hydraulic fracturing. The fracking operations will be at its height in the early years of its productive operations, (probably 24 hours per day) but will be likely to operate in all for 20 years.
They will start their seismic collection of data from this summer.
After sinking each vertical well, it will take 30 days to establish a horizontal well. This involves the use of 98% water, 1.5% sand and 0.5% chemical additives. They indicated horizontal work would take place at levels of 3,000 feet (ie. 914 meters) to 4,000 feet (1,219 meters). This was according to their senior well engineer. (See later, technically in law they should not operate normally until they reach 1,000 meters).
They said that when hydraulic fracturing takes place it can effect the land for 125 metres upwards. A point which Councillors were worried would cause greater disturbances than that especially in former mining areas, (where the bulk of INEOS's interests are and mining used to cover nearly all of North Derbyhire at different times in its history). Pilsley, for instance, was pointed to as having suffered from mining subsidence.
INEOS said that 6% of the revenue they spent would go to landowners, homeowners and communities. But there was no clear answer as to how much of this would go to Town and Parish Councils. (Just how much of this money will need to be used to compensate people whose properties are damaged during fracking operations ?)
They claimed that lessons had been learned from experiences of fracking in the USA and that our regulations were tighter than theirs. (Yet fracking is banned in France, Bulgaria and the State of New York; with moratoriums which could lead to full bans operating in Germany and New Brunswick in Canada).
The Councillors who asked questions did not adopt a particularly hostile stance, but they displayed some clear knowledge about the problems they could be faced with.
I raised two points in a similar tone. (1) I said that my understanding of the legislation which provided for fracking was that the Government had initially wanted this to be allowed at up to 300 metres, but that this had been amended in the legislation to 1,000 metres (which is a bit deeper than an INEOS figure mentioned above). Although the Government does have power to vary the depth in special cases. (2) I also pointed out that on the other side of the Speedwell Rooms where we were sat was an Industrial Estate and if they undertook fracking from there, they could easily then operate under the very centre of Staveley itself. (The geologist had earlier told me that horizontal underground fracking operations could run for two kilometres "or more". How close will any of us live the such sites?)
It is clear from the power point presentations they gave and the leaflets they issued, that the sites which they would come to operate from will become major industrial sites requiring access by numbers of large vibrator and transport trucks (which they misleadingly downgraded as being just like bin lorries). The great bulk of North Derbyshire (and much beyond) are subject to INEOS (and some other) investigations which could lead in two years to full scale fracking operations. It is not a matter that we can sit back upon.
See here for one initiative being pursued to protect the interests of the public.
And see here for a Common's Report on "The Environmental Risks of Fracking" which called for a moritorium on its development.