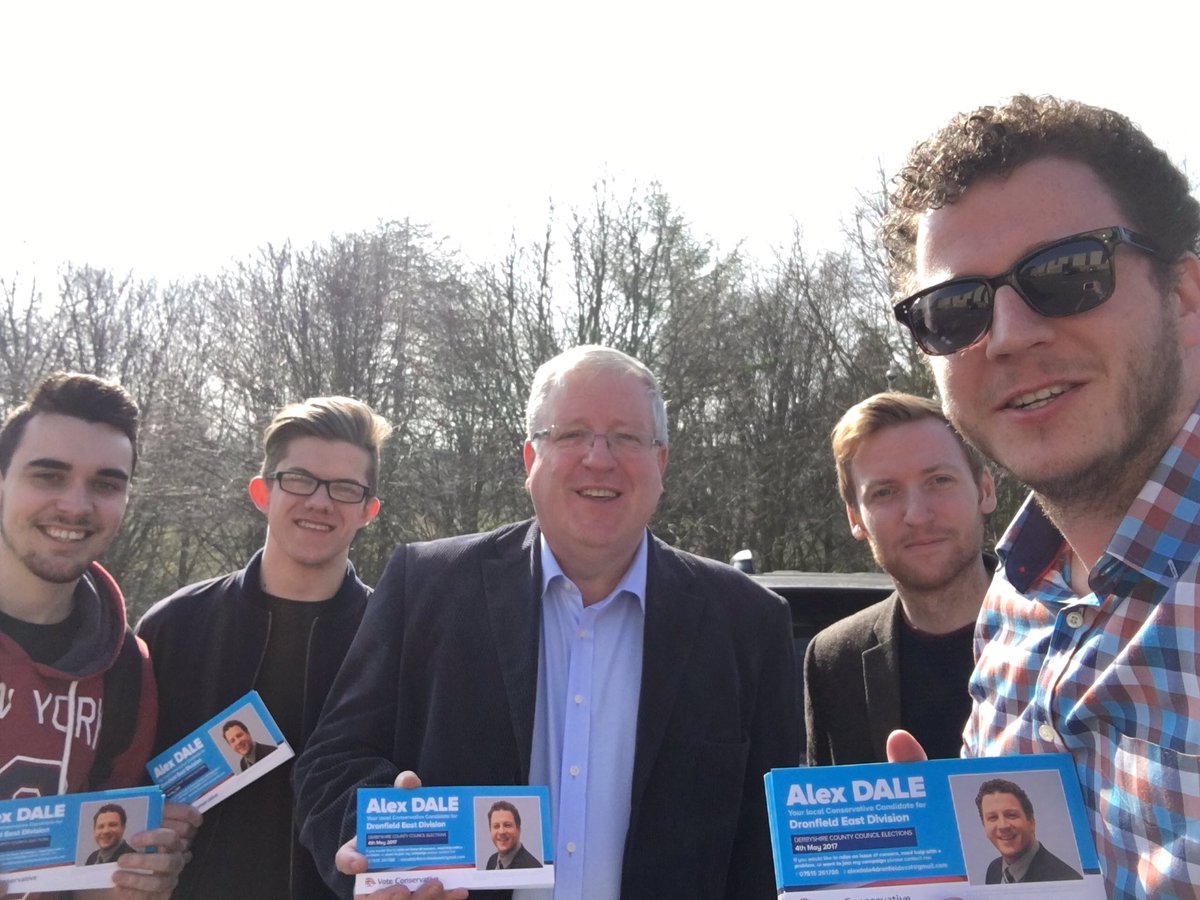 First three from right to left - Alex Dale, Lee Rowley (Conservative Candidate in the General Election for NE Derbyshire), Sir Patrick McLoughlin (Chair of the Conservative Party and Conservative MP for West Derbyshire/Derbyshire Dales from 1986 to 2017 and currently the area's candidate )
.
Dear Alex Dale,
You have recently been elected to the Derbyshire County Council as a Conservative Candidate to serve Dronfield East, which is the Ward in which I live. As I am approaching the 60th anniversary of my first joining the Labour Party, you will appreciate that I did not vote for you.
You will be aware, however, that I am a strong opponent of current moves towards fracking in North Derbyshire and its surrounding areas. By tomorrow for instance, the fracking firm INEOS could be applying to the newly Conservative controlled Derbyshire County Council for permission to engage in vertical explorations to search for access to shale gas in a field near Bramleymoor Lane close to Marsh Lane. We are both aware of serious traffic and other problems which such a move could cause and the impact upon your ward of Dronfield East, which could also later be seriously worsened if it led on to underground horizontal fracking operations in the area.
As you opposed such moves to fracking in this area in literature you published for the County Council elections and in your role as a Dronfield Town Councillor, you are now fully committed to opposing the immediate application from INEOS. If not, it would be one of the quickest U-turns ever.
You are, however, being thrown into an immediate situation where you will need to press your position at your new County Council level. If Labour had been re-elected, then I believe that the coming INEOS application for developments would have been rejected and INEOS would then have needed to appeal to Government level in an effort to overcome this blockage. But what will happen now that the Conservative Party is in control of the Derbyshire County Council, for the current Conservative Government has a clear legislative commitment to moves to widespread fracking ?
You may need to start out your County Council career as a Conservative rebel. Indeed if you press your clear commitments you could immediately be expelled from the Conservative Group of Councillors.
The Conservatives at County level now have 37 seats, Labour 24 and the Liberals 3. Even if Labour and the Liberals unite in opposition to the move by INEOS at Bramleymoor Lane, at least six Conservative Councillors will need to join them. Is this likely to happen ?
Have you immediately been working within the Conservative Group on the Council for it to reject the application? If not will you rebel over the Conservative line and attempt to take others with you ? And is there a danger that you will yourself be technically debarred from voting, for being held to have prejudged the INEOS planning application without having yet seen it in full detail ?
Then will you be using your close links with prominent figures in the Conservative Party such as Patrick McLoughlin (who canvassed for you) to get them to change their overall pro-fracking stance at national level.
I am emailing a link to this open letter to you via your Dronfield Town Council email address. I will also be posting it on Dronfield, Eckington and other local anti-fracking facebook sites. You might like to respond publically also.
The regular literature you published against fracking now has to be acted upon. If not, some of us will just not let any lack of action on your part be forgotten. You have given yourself a big task and will be judged as to how quickly and vigorously you pursue it.
Yours faithfully,
Harry Barnes.