Apologies to Andrzel Krauze of the Guardian - but he was very perceptive.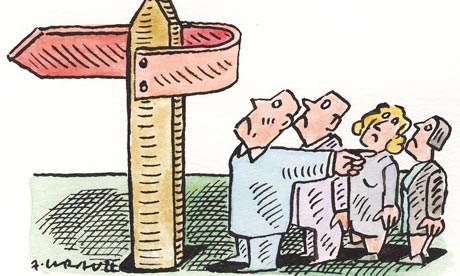 Ed Miliband's plans for restructuring and further messing up the Labour Party were endorsed by the National Executive Committee of the Labour Party on Tuesday - see
here
. Only Dennis Skinner and Christine Shawcroft voted against the proposals, whilst Martin Mayer of Unite abstained. The proposals now go to a special conference of the Labour Party for consideration on 1st March. So all is not yet lost, we now have a further 23 days in which to save the Labour Party. Even a week is a long time in politics. So something dramatic could still happen and my following words of wisdom could win the day - see
here
and
here.
On the other hand, two weeks before Tony Blair got rid of the original Clause 4 of the Labour Party at a special conference in 1995, I wrote an article for Tribune entitled "Two Weeks To Save The Labour Party". And that got us nowhere. But afterwards, I was able to say "I told you so". I told you so again today.