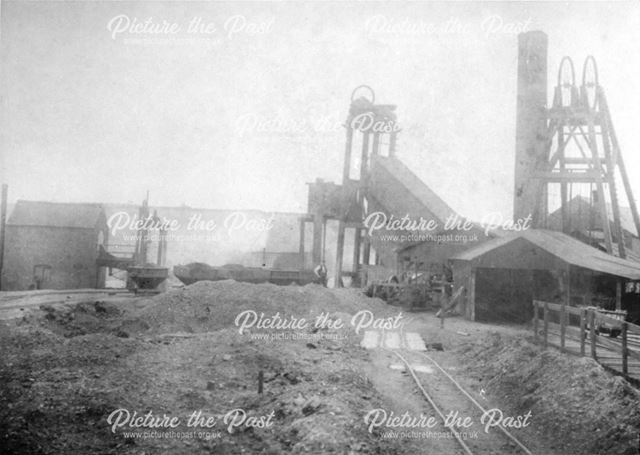 Gosforth Colliery, Dronfield. In 1896 it employed 95 underground and 35 surface workers.
To access significant areas of shale gas, INEOS's need to engage in underground fracking operations using horizontal techniques in areas which have either (a) remaining untouched coal seams and/or (b) have had past coal mine workings. The appropriately named "
COAL
Aston and Dronfield Against Fracking" body covers territory which completely fits both of these categories. Untouched coal seams remain in areas such as the High Street and Church Street, because they had been built upon before coal mining operations expanded throughout the rest of what was then Dronfield's green fields, especially in the 19th and early 20th Century. And also at times well before that.
To see the range of former coal mining activity across the whole area covered by the Dronfield Town Council, it is essentail to visit this
Coal Authority Interactive Map
and home into our area - which is south of Sheffield. There is a key index to link into at the top right hand corner of their map. The former mining operations which have been discovered so far, mainly took place in the 19th Century. Although some go back much longer than that.
(Of course, the general points I make below about the Interactive Map also apply to many other parts of the country and they should be more widely checked out.)
All of Dronfield is supposed to be part of the Coal Authority's area of concern. We fall completely into their three categories as (1) a surface coal research area (2) a coal mining report area and (3) a coalfield consultation area. Then they cover over 90% of the area in their abandoned mine catalogue. Red crosses used on the Interactive map show over 250 mine entries, whilst brown crosses are used to show over 80 separate mine exits - although many mines also used their entrances as exits.
A whole range of other categories reveal problems - including Development High Risk Areas, Past Surface Mining, Shallow Coal Mine Workings and Coal Outcrops. A series of green crosses can be found. If you click into these it will tell you the deepth of the pit shafts concerned. Many of these being about just 100 feet deep. The working dates of the operations can be found by linking into a range of some 40 purple crosses. These are mainly from the 19th century.
There is much more information which can be obtained. Those living in the territory can check to see how close they live, work, shop, school, park, walk, drive, worship or obtain entertainment near such areas. Then they can assess how they would feel if INEOS's seismic operations were to take place beneath such areas. Without INEOS being under an obligations to cover the costs of any damages. And without anyone having the right to stop INEOS operating beneath their properties - not even the Derbyshire County Council when it comes to our schools.
The Coal Authority Interactive Map may be difficult to master, but it is well worth the effort. But it is a pity that the Coal Authority are not themselves also pressing such matters. They raised no objections to INEOS's proposals at the recent Bramleymoor Lane enquiry. Even though their interactive map shows two mine shafts in close proximity to INEOS's proposed operations. And these are also categorised as being "Development Risk Areas".
If eventually INEOS came to be able to use its Bramleymoor Lane site for underground fracking operations, these would easily reach to Coal Aston. Then a firm Haliburton in the USA operated over a much longer distance in Texas - far enough to get from the Bramleymoor Lane site to the Unstone-Dronfield By-Pass. The main entrances to the former Gosforth Valley mine (as shown in the above photo) being close to the point where the By-Pass is now carried over a viaduct. There it is close to the entry to the large Tarmac housing estate on Gosforth Valley.
Added 19 July, 2013. Here is a link to a 351 page article by A.N. Bridgewater concerning former North Derbyshire Coal Mines. It contains many maps and photos. Pages 128 to 133 (with some later items) give details about many former coal mines which operated in the Dronfield and Unstone areas. Showing detailed maps and photos. Then "Bramley Moor Old Mine" (of relevance to the recent INEOS application) appears on page 140 during coverage of mines in the Eckington and Mosborough areas. Killamarsh is then dealt with. The writer also points out that sections of the Chesterfield area show the existence of 900 former mining operations. See here.
A book (with numerious photos) which is also well worth pursuing is "The Coal Industry of Sheffield and North East Derbyshire" by Ken Wain (Amberly 2014). Link here.
This is the Coal Authority Map which you need to click into (via the earlier link above) -